Who is Kili Paul?
Kili Paul is a Tanzanian video creator born in Maasai Tribe. His real name is Yusuf, which is also his school name. People who know him from his school days call him 'Yusuf'. Although, his father calls him by his nick name 'Kili Manjaro'.
He used to record lipsync videos on TikTok on Indian songs but got attention when he started recording videos with his sister Neema Paul.
Kili got famous when his 'Rataan Lambiya' reel got viral on social media and he became an internet sensation overnight. People from all over the India showered love on him. They applauded how a foreigner sang hindi Bollywood song so beautifully with great expressions.
Also read about other International famous social media influencers such as Hasbulla and Abdu Rozik only on wikibiotv.
After that, there was not stopping, people showered loved in comments and Kili got millions of followers in a short span of time. The affection and love he got from the people of India motivated him to push even further.
On republic day he lip synced national anthem along with his sister 'Neema Paul', which gained millions of views and likes. The video got shared multiple times across the internet.
Seeing their popularity, many Radio channels invited him for the interview. But 93.5 Red Fm was the first one to collab with him.
Most recently he was awarded by the High Commissioner of India in Tanzania for promoting the Indian culture.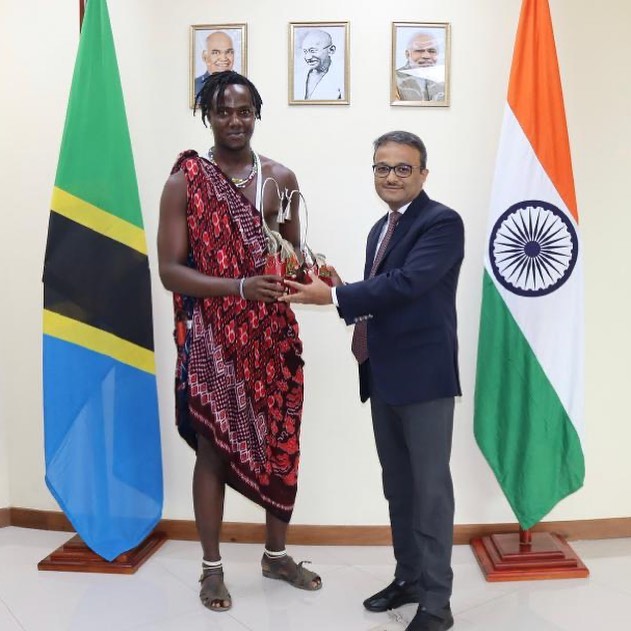 Some time ago Prime Minister Narendra Modi praised brother sister duo by mentioning them in a tweet.
Kili Paul also paid tribute to the late Lata Mangeshkar by singing her song at her death anniversary.
Kili Paul Biography
Real Name
Yusuf
Nick Name
Kili Manjaro
Other Name
Kili Paul
Profession
Video Creator, Farmer
Date of Birth
9th October 1995, (Age as on 2022 – 28 years old)
Birth Place
Manjaro, Tanzania
Nationality
Tanzanian
Sexual Orientation
Straight
Religion
Islam
Ethnicity
African, Maasai Tribe
Hometown
Manjaro, Morogoro, Tanzania
Current Location
Dar Es Salaam, Tanzania
Languages Known
English, Hindi (Little Bit)
School
Studied till 7th Standard, Dodoma
Hazina Secondary School, dropped school due to family problems
Hobbies and Favorites Stuff
Video Creation, Dancing, Singing, Soccer
Favorite Actor
Salman Khan, Hrithik Roshan, Tiger Shroff
Favorite Actress
Alia Bhatt
Favorite Artist in Tanzania
Diamond Platinum, Ali Kiba (Ali Saleh Kiba)
Food Preference
Veg and Non Veg both
Height, Weight and Physical Appearance
Kili Paul is 6 feet 2 inches tall and weighs approximately 80 kgs. He has got curly hair, black eyes, and athletic body. If we go through his body measurements, his chest is 41 inches, waist is 28 inches and biceps are 12 inches.
| | |
| --- | --- |
| Height | 6'2″ Ft |
| Weight | 80 Kgs |
| Chest | 41 inches |
| Waist | 28 inches |
| Biceps | 12 inches |
Family, Siblings, Spouse, Girlfriend and Children
Kili Paul's has a very big family in Tanzania. He lives with his father and then father's brothers and each of them have 2-3 wives and from them there are more kids, so in blood relation he has 7 brothers and sister in their family including Neema Paul whom we have seen in his TikTok and Instagram videos.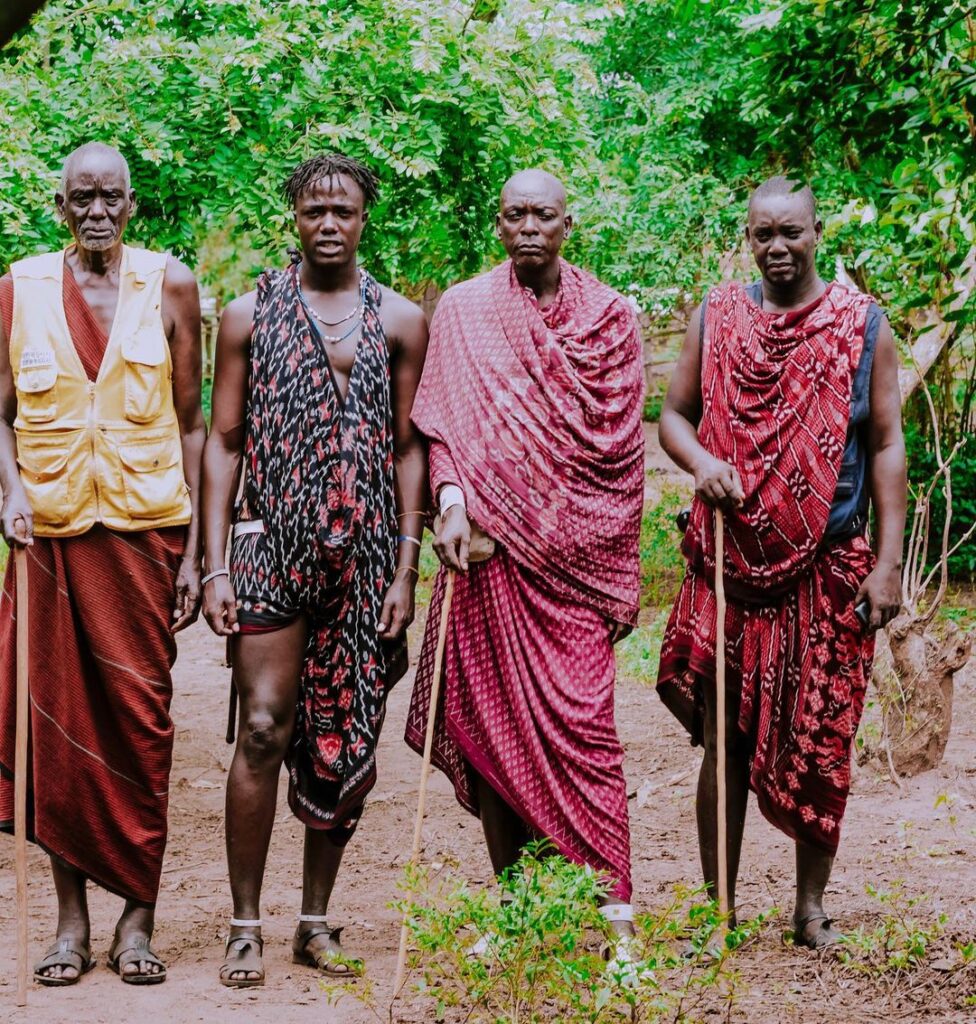 All of them live together in Dar Es Salaam and their primary occupation is farming. Before moving to Dar Es Salaam he lived in Manjaro and then moved to Morogoro.
As of now, Kili is not dating anyone. He is single, unmarried and have no children.
Education
Kili Paul has done schooling from Hazina Secondary School based in Tanzania. He has completed education till 7th standard, although he wanted to study further but due to family problems he couldn't study and had to drop school.
However, Kili has a great command over English language, he can speak multiple languages like Hindi and English, which he learnt by himself watching movies and practising at home. So, in other words he is a self taught man with exceptional learning skills.
Debut and Career
Kili has amazed everyone with his Bollywood lipsync videos on TikTok and Instagram. After becoming a social media star several brands collaborated with him for promotion. According to Kili's insta feed it seems that the first product he promoted was from Beauty Cosmetic brand called 'Origin Naturespired'.
Post that, he got many collaborations like the one from clothing brand 'Max Fashion' and 'Essentials'.
Speaking about his further career opportunities, he told in an interview that he is really looking forward to visit India and if he gets anything from Bollywood then it will be well and good.
Kili also said, we will see him more in interviews, news channels and there is a lot coming up soon.
Luxury and Lifestyle
Kili leads a simple life in village. He belongs to Maasai Tribe, as any other African tribe they do not have any luxury. Infact, they sleep outside on the floor. The male group doesn't sleep with the female group. They have separate places for both.
This is how they are raised, Kili enjoys the simplicity of their culture and he is proud of it.
Kili is a farmer by birth, however, he is not looking after his farms as of now. He is focusing more on video content creation and whenever get free time he plays football/soccer.
Since Kili is into content creation, he does have iPhone 13 pro with a simple tripod to record videos. Also, he doesn't have a motor cycle in his family for transportation.
Apart from that, there is no other luxury, he doesn't have any car or expensive gadgets as of yet.
Latest News on Kili Paul
Recently a mob of few people attacked Kili Paul with knives and sticks. He struggled and escaped but got injuries and stitches in leg and thumb. Kili shared the picture of him lying down in his Instagram stories.
In November 2022, Kili Paul appeared in a Colors reality show 'Bigg Boss 16' as a guest and made reels with the participants.
Social Media Accounts
Frequently Asked Questions
Who is Kili Paul?
Kili Paul is a TikTok star who got famous from his Lipsync videos he created on bollywood songs. His first reel that got viral was 'Raatan Lambiyan'.
Which country does Kili Paul belong to?
Kili Paul belong to Tanzania (East African Country).
Where was Kili Paul born?
Kili Paul was born in Manjaro, Tanzania.
What is Kili's date of birth?
Kili Paul's date of birth is 9th October 1995.
How many brothers and sister does Kili have?
Kili Paul has 7 brothers and 1 sister 'Neema Paul'.
How many cars does Kili Paul have?
Kili doesn't have any car but he does have a bike which he uses for transportation.
Which tribe does Kili belong to?
Kili Paul belong to Maasai Tribe.
Who is Kili Paul's girlfriend?
Kili is single, unmarried and not dating anyone.
What is Kili Paul's real name?
Kili Paul's real name is Yusuf.