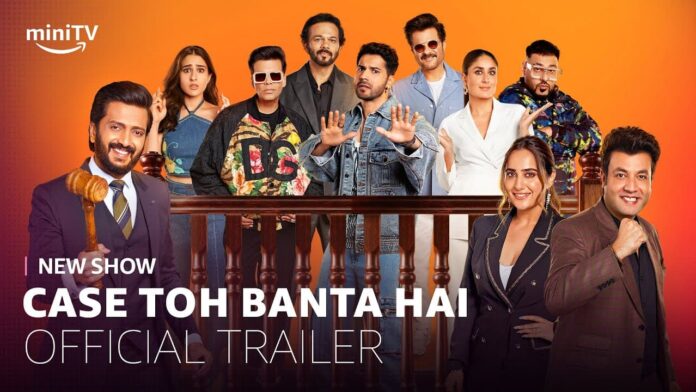 Story Brief
The new comedy series 'Case Toh Banta Hai' will be released on 29th July 2022 on Amazon Mini Tv. The series is publicised as India's first show to bring up top Bollywood celebrities in the court.
In the official trailer released on Monday,18th July, we saw a glimpse of the celebrities who are lined up for the show and will be prosecuted.
The top celebrities who will participate in Case Toh Banta Hai are Kareena Kapoor, Anil Kapoor, Badshah, Karan Johar, Sara Ali Khan, Rohit Shetty and Varun Dhawan. Also read Ishq Express Story, Cast Details, Episodes, Watch Time
The mentioned celebs will be prosecuted by Janta ka lawyer 'Riteish Deshmukh' and defended by bollywood insaaf specialist 'Varun Sharma'.
While the popular content creator and Youtuber Kusha Kapila will play the Judge and give her verdict at the end of each episode. Also read Yatri Kripya Dhyan De Full Story, Cast Details, Free Short Movie
The tv series will have comedy and a lot of fun elements which will be experienced when the show gets released on 29th July 2022. So get ready for the great banter only on Mini TV inside your Amazon Shopping App.
The show is produced by Banijay Asia under the banner of Seventaurus Entertainment Studio. Also read Udan Patolas Web Series Story Brief, Cast Real Names, Episodes, Trailer and more
Title
Case Toh Banta Hai
Celebrities Participating
Kareena Kapoor
Anil Kapoor
Badshah (Rapper)
Karan Johar
Sara Ali Khan
Rohit Shetty
Varun Dhawan
Lawyer and Public Prosecutor
Riteish Deshmukh
Lawyer and Bollywood Insaaf Specialist
Varun Sharma (Popularly known as Chucha)
Judge
Kusha Kapila
Release Date
29th July 2022, Friday
Genre
Comedy
Language
Hindi
Platform
Mini Tv (Free) inside Amazon Shopping App
Director
Sajid Samji
Producer
Banijay Asia
Production House
Seventaurus Entertainment Studio
Also Read Shikshamandal (MX Player) Web Series Cast, Story, Release Date, Episodes
Case Toh Banta hai – Official Trailer
Frequently Asked Questions (FAQs)
Is Case Toh Banta Hai tv series free to watch?

Yes, the tv series is free to watch and no subscription is required.

Where can I watch 'Case Toh Banta Hai'?

Download Amazon Shopping App and then go to Mini Tv.

When Case Toh Banta Hai will be streamed?

Case Toh Banta Hai tv series will start streaming from 29th July 2022 onwards and every Friday new episode will be added.