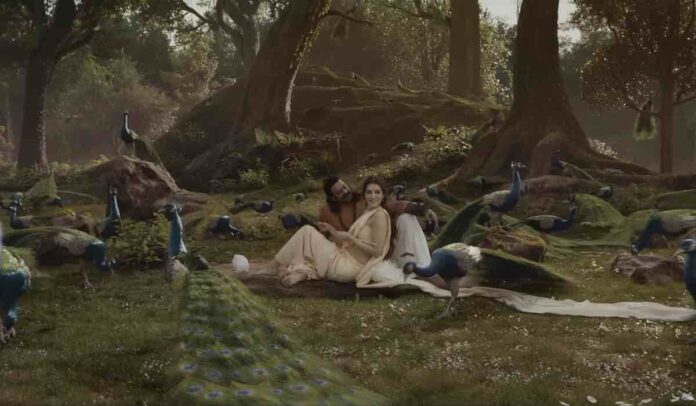 Prabhas and Kriti Sanon starrer Adipurush which made its theatrical debut on 16th June 2023 has now arrived on the OTT platforms.
The hindi version rights of Adipurush were bought by Netflix and South language version rights were purchased by Amazon Prime Video.
The movie started streaming on these platforms from August 11, 2023.
Also read:-
Adipurush Movie Review
From the very beginning Adipurush and its makers received a lot of flak due to its poor VFX, wrong casting and low level dialogues. Many people even questioned the 600 crore budget spent in the making of Adipurush. Since the movie trailer didn't not give impression of high production value and its content was not in line with the epic Ramayana originally created by Ramanand Sagar.
Therefore, people demanded a ban and the makers were mocked everywhere on social media.
However, the director Om Raut and writer Manoj Muntashir told the audience that the movie should not be judged on the basis of a trailer and requested audience to go and watch movie in theatres.
Even after making several cuts, it didn't leave a great impression on the audience.
When Adipurush released on Netflix Ott app, we got the chance to watch it online and here is our take on this movie.
Goods
The scene where Saif Ali Khan played sitaar looked amazing.
Bads
Prabhas and Sunny Singh casting went wrong. Because, we observed that Sunny Singh who played the character of Shesh (Originally inspired from Lakshman) looked very calm. On the contrary, Prabhas looked a bit aggressive throughout the film. However, it should have been opposite. On top of that Prabhas's moustache didn't go well with the character. The divine feel was missing and we felt disconnected from the film.
Most of the scenes filmed looks immature due to its low level VFX editing.
Other characters like Sugreev and Bali looked very animated. The makers failed to maintain balance between CGI and real life characters.
The dialogues given to Bajrang (inspired from Lord Bajrang Bali) sounded trash.
Overall, the movie felt boring and waste of time. We do not suggest watching this movie in theatres, however, you can watch it once on Ott app as per your convenience.