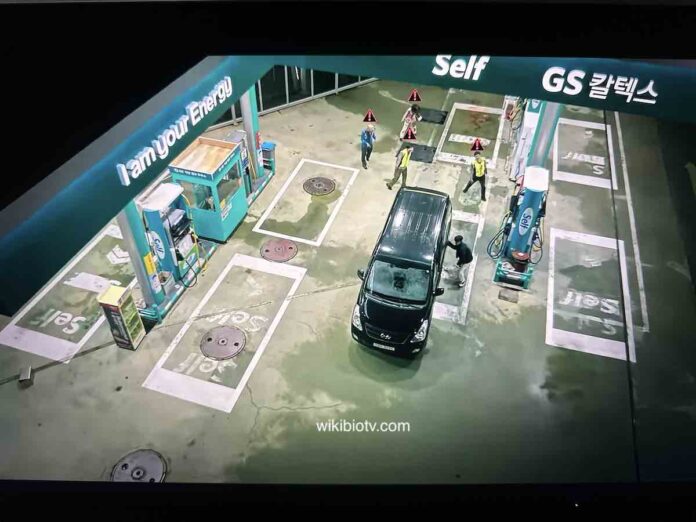 Zombieverse is the most popular Korean series on Netflix after Squid Games. This unscripted series features Lee Si-Young, Ro Hong-chul, Park Na-rae, Rapper Din-Din, Tsuki, Yoo Hee-kwan, Yiombi Jonathan, Yiombi Patricia, Kkwatchu Hyung and Dex in the main role.
| Series | Zombieverse |
| --- | --- |
| Cast | Lee Si-Young, Ro Hong-chul, Park Na-rae, Rapper Din-Din, Tsuki, Yoo Hee-kwan, Yiombi Jonathan, Yiombi Patricia, Kkwatchu Hyung, Dex |
| Languages | English, Korean, Brazilian Portuguese, Thai, French Spanish |
| Subtitles | English, Korean, Arabic, Czech, Danish, Dutch, Filipino, French, Spanish, German, Hebrew, Indonesian, Italian, Polish, Romanian and more. |
| Genre | Korean, Reality Tv, Comedy, Zombies, Horror |
| Maturity Rating | U/A 16+, Gore, Violence |
| No. of Episodes | 8 |
| Duration of each Episode | Approx. 54 minutes or more. |
| OTT Platform | Netflix, Need Subscription |
| Release Date | 8th August 2023 |
| Creators | Park Jin-Kyung, Moon Sang-don |
Also read:-
Zombieverse Story Brief
The story of the series starts from a dating reality show where the above characters enters in a studio to judge the show. Thereafter they ask the contestants to kiss each other. Everything went smooth until one of the contestants started gorging her partner instead of kissing.
Soon after that zombie outbreak occurs and the judges had to run for their lives.
This virus outbreak create chaos among people of Seoul and the judges ended up at the gas station. Soon they realised that car needs refuelling, therefore, one of the judges got down from the car to refuel, suddenly he got attacked by a zombie, moments later the whole place got surrounded by zombies and the judges got stuck in the car.
In this particular episode we see struggle of the judges and whether they make it safely to the outskirts of Seoul or not.
There are 8 episodes and each episode of Zombieverse is approximately 54 minutes.
Zombieverse Review
If are a fan of zombies and Korean shows, you may enjoy the series. However we see mixed reaction of people on X (formerly Twitter).
one person found it annoying

Twitter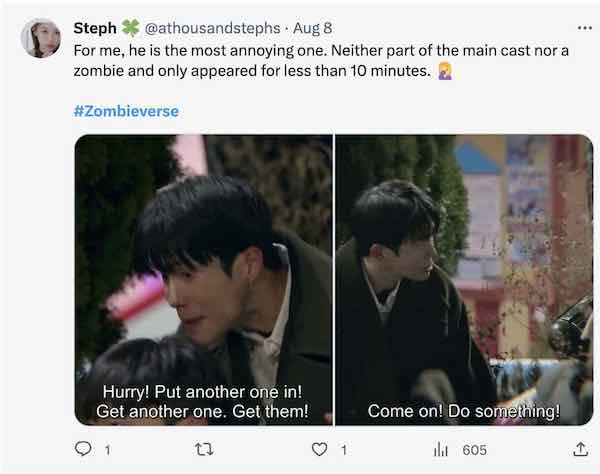 Another Person wrote that the series is good and she loved the performance of Dex.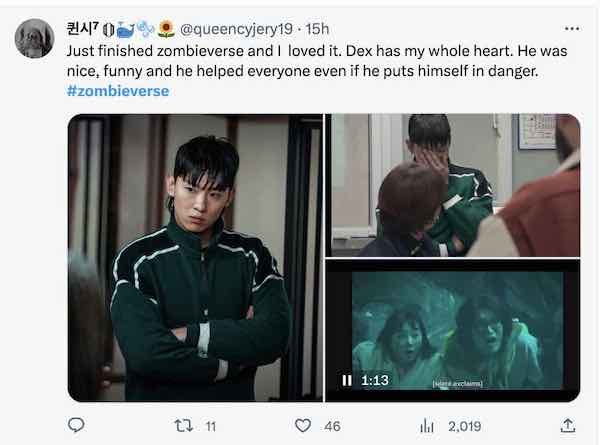 Another person wrote on twitter, that the series is worth watching, Funny and should not be watched seriously.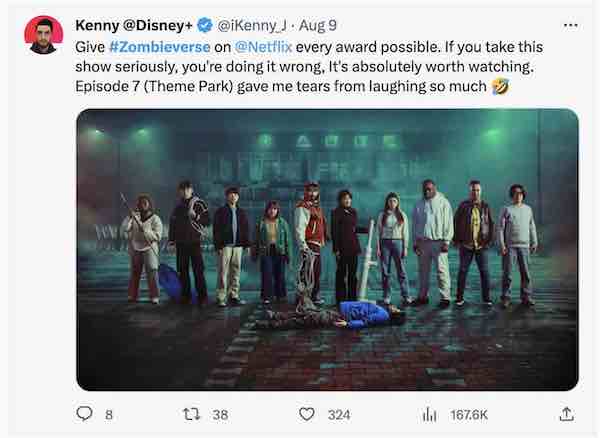 Zombieverse is available to watch in English, Korean, French, Spanish, Thai and Brazilian Portuguese languages. However, Hindi audio and subtitles are available at the moment.
Binge watch Zombieverse on Netflix to know the complete story.
Zombieverse Trailer