In the previous article we discussed how to become a child actor in India, however, this article is dedicated towards the age group of 18 years and above. If you are below 18, consider checking this article focussed mainly on the child actors.
Table of Contents
For actors and actresses of age 18 and above please read on…
Bollywood's glitz and glam attract millions of youth everyday. Some gets inspired by the talent they watch on tv, while others get attracted by the lifestyle celebs follow.
Whatever may be the source of inspiration, but the question that boggles most youth is, how to become an actor in India? Where to start? And whom to Contact?
Well, we will be answering all these questions that may arise in a budding actor's mind.
Follow these steps to become an actor in India
Ques 1: First ask yourself, are you really passionate about acting? If yes, then your journey of becoming an actor will be a lot smoother compared to those who have been following someone else's dreams.
Ques 2: Are you shy in public? Have you participated in any event or college fest? If you are not shy and have been participating in fests and events then there are chances that you will be much more comfortable in audition rooms compared to those who are not.
How to prepare yourself as an actor?
Step 1: When you are auditioning for any role, preparation is very important. Go through the script several times a day to understand the background of your character. Your characters can be from a village or city. He can be wealthy or poor. You need to dress up according to the character. If your character is poor, you can't wear a coat or smart casuals. Similarly, if your character is sad, you can't carry a happy face. Characterization is very important for an actor. When you are auditioning for a role, you need to adapt the personality of the character.
Step 2: Record yourself on the phone and see if you get the feel or not. Think from the audience's perspective, what if you were a viewer, would you enjoy watching the recorded video? You can ask your friends and family for feedback.
Step 3: Watch old and new movies, which will help you understand the technical aspects of the film. Observe how actor reacts in a particular situation. It will help you build a database in your mind, which you can recall at the time of audition.
Step 4: Learn different expressions: the most common expressions that have been used in almost every film are: Sad, Cry, Happy, Angry. Practice each expression from scale 1 to 5. For example: If you are practicing Sad expression. Make sure you start from a little sadness, then increase it slowly to the extreme level. I hope you understood what we meant here? In short, you need to start with a little sadness at first and then you need to increase it to the highest level. Same goes for other expressions.
Step 5: Pick any dialogue from a movie. Now try to say that dialogue in different ways. What we meant from different ways is that, you need to say a dialogue in a funny way first, then try to say the same dialogue seriously, again try the same dialogue in an angry tone. Practicing dialogues like this makes you flexible.
Step 6: Read books from various authors like: Premchand, Kalidas. Also read novels like Tamas, Godan, Tuglaq. Which will help you build strong vocabulary etc.
Step 7: Attend social gatherings, meet new people to understand different types of characters in our society. And how each person reacts in different situations. As said previously, Observation is very important for an actor, the more you observe the better you will become.
Step 8: Work on your fitness, eat healthy, build stamina so you can work tirelessly for long hours. If you stay fit, you will be able to perform better in auditions and shoots.
Step 9: Keep giving auditions, you may get several rejections at first, but don't get demotivated. Audition is an ongoing process, don't try to take a shortcut. Remember, there is no shortcut for success. Even if you get a role without an audition, you will have to perform during the shoot.
Step 10: Work hard, give your 100% in every audition. Once the audition is over, ask for the feedback. At times, you might not get instant feedback from the casting director. But that's okay, don't get disheartened.
Step 11: Whenever you go for an audition, you may need to hear 'NOT FIT', which means they can't visualize you in that particular character. You might face this at several casting agencies, but this is a normal process which every actor goes through.
Step 12: To stay ahead of the competition, learn unique skills like Dancing (Bharatnatyam, Kathak), Martial Art, Gymnastics, Singing, Musical Instrument etc. And do mention this in your introduction video.
Step 13: If you know any additional language like Bhojpuri, Haryanavi, Punjabi, Gujarati or any other regional language do mention it in your profile, so whenever there will be any requirement of regional language actors, you will be shortlisted and called for an audition.
Step 14: Attend acting workshops to know the technicalities of the camera acting. Most workshops are paid, consider it as an investment. But there are a few theaters in Mumbai, where you can brush up your acting skills and get paid at the same time. Nowadays, web series makers often need actors from the theater background, if you gain theater experience beforehand it will be helpful for you in getting roles on the OTT platform.
Step 15: Dress nicely, meet people with warmth. Exchange numbers with the fellow actors and casting directors to stay updated about the casting requirements and industry news.
Step 16: Create your profile on Youtube, Facebook and Instagram and showcase your talent there. Most of the time, casting directors pick actors from social media. Make sure your profile looks professional and neat. Don't upload your family vacation pics there, no one is interested in that. They want to see you, not your family.
Step 17: Groom yourself well, get a decent hair cut that suits your personality. However, if you are looking for a villain's role then make sure you maintain that rugged look with mustache and beard. Clean shave won't work unless it is a very sophisticated kind of villain who owns a million dollar company.
Step 18: If you have 'श' & 'स' problems, go for diction classes. This problem occurs mostly with the actors who come from Bihar and UP region. Since Bollywood is about Hindi movies, you need to have a clear diction.
Step 19: Follow people of your profession on Instagram, Youtube and Facebook. This will help you stay updated on the latest trends and news.
Step 20: Watch your favorite actor and actress interviews, you will learn a lot from their struggle and mistakes. Which will eventually help you in becoming a better actor.
Do I need to stay in Mumbai to become an Actor?
No, it is not mandatory to stay in Mumbai, you can give self tests and auditions from the comfort of your home. However, there are several advantages to staying in Mumbai.
First, you meet like minded people having similar interests.
You won't be judged because the majority of people visit Mumbai to try their luck in acting.
Mumbai is a hub for actors, therefore, if not today, you will definitely get work at some point of time. Considering you are working hard and giving regular auditions.
You will get exposure to different formats of cinema. Which is not possible in the other states of India. Even Delhi and NCR don't have that work culture and ethics that you will find in Mumbai.
I do not have any acting experience, where do I start?
Start with Modeling
For those who are new in the acting field can start from Modeling. This is one of the easiest ways to get started in your acting career. For modeling it is very important to have a good portfolio. Your portfolio pictures must have 3 main shots: Close-up shot, Mid Shot, and full length shot.
Check out these images for your reference:-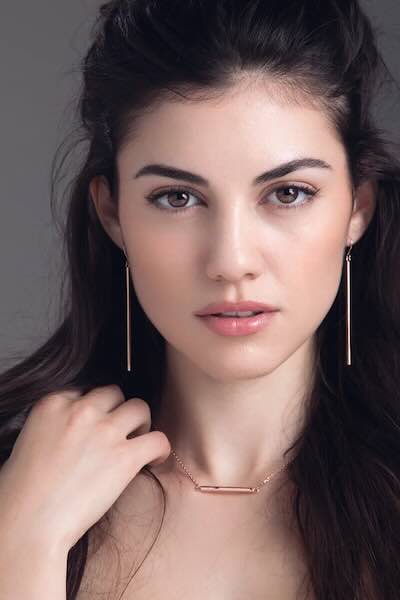 There are several actors in our film fraternity who started as a model and later transitioned into a full fledged actor or actress. Some examples are as follows:-
Sushmita Sen
Aishwarya Rai
Priyanka Chopra
Arjun Rampal
Jackie Shroff
Milind Soman
Bipasha Basu
Whom to contact for good Portfolio Pictures?
You can contact any freelance photographer or agency who has prior experience in clicking portfolio pictures. You will find most of them if you search on Instagram. After connecting with them, check their profile and ask them to provide sample pictures they clicked previously.
How do I become a Model?
Once you have the portfolio ready, connect with a reputed talent agency (again, you will find plenty online) or connect with the coordinators in your area who work in this field. It doesn't matter whether you are in Delhi, Mumbai or Pune.
When you visit any modeling agency, you will come across several budding models, and request them to share some contacts with you.
If you don't find any coordinators or agencies, Create your account on Instagram, mention Model in your Bio and upload your high resolutions pics with hashtags such as #mumbaimodel, #fashionmodel or #ecommerce model.
Some coordinators are always hunting for new talents, if you use relevant hashtags, your pictures may popup in their Instagram feed and they will get in touch with you directly.
How much do I get paid as a Model?
Since you are a fresher in the acting and modeling field, don't focus on money in the beginning. Get as many shoots as you can to build your portfolio and gain experience. Later, you can demand money as per the industry standards. There is a very good payout to the models who are established in this field. Even starters can get a decent amount for doing garment, e-commerce or jewelry shoots.
Start with Tv Advertisements
Prior to any longer format of cinema like movies, web series or tv shows, you can try your luck in Tv advertisements also known as tv commercials. Tv Ads offers a decent budget even to the freshers who don't have any acting experience. You can get paid anything between ₹5000 rupees to ₹30,000 per day for a digital or a tv ad in India.
How to appear in a Tv Ad in India?
You need to go through auditions to work in any form of cinema. The same goes for the Tv ads, once you connect with any casting director or coordinator, they will share a script with you.
On the basis of text written in script, you will have to act and record the same on your mobile phone. You also need to share an introduction video along with your audition video.
After giving an audition, you need to wait for the shortlisting from the casting director. Which means that the director, advertising agency and production house has liked your audition and you are added to the list of actors who have made it to the final selection. Now based on the experience and their preference, the most suitable candidate will be finalized for the ad.
Start your acting career with Tv Serial
There are several actors and actresses who started their career as a tv actor. However, this is the toughest medium of cinema with a lot of stress and hectic shift hours.
If you are just starting out, you may face difficulties adjusting with this form of cinema. Therefore, our suggestion is to explore other mediums of cinema. Once you get comfortable in front of the camera and work environment only then go for Tv shows or serials.
However, if you are hardworking, love challenges and passionate to make your career in Tv serial then you need to visit the following casting agencies and production houses who have produced well known tv shows:-
Visit any of these offices in Mumbai for an open introduction and submit your profile. Whenever there will be any audition they will give you a call.
How much salary does a fresher and inexperienced actor get in Tv Serial ?
Inexperienced actors of age 18 and above can get a starting salary of ₹5000 to ₹15,000 rupees per day. Which gets revised 10 to 15% every year if you continue to work in the same serial.
Start your acting career with Films
Bollywood and Hindi Cinema has changed a lot in the recent years. Previously, only good looking actors used to get work in the film industry. However, the increased trend of society driven films have brought a lot of common faces in the limelight.
Actors like Rajkumar Rao, Ayushman Khurana, Kartik Aryan, Aparshakti Khurana, Late Sushant Singh Rajput all hail from a non-filmy background yet they have been enjoying success in Bollywood.
How do they reach this level?
They all worked hard, they had passion for their work. They did not bother about money, they worked on their craft day and night and here they are now. Another name that needs no introduction is Vicky Kaushal, although his father was a stuntman in Bollywood, but still he had to work hard to reach the level where he is now.
Enough of Motivation, Right?
Feeling motivated? Congratulations!
Now it's time to take 20 actionable steps mentioned at the top of the article. If you go through them, you will definitely become an actor. However, you need to follow the steps religiously without getting distracted. On top of that, you need to stay focused and humble throughout your struggle days and even after that.
How much salary does a fresher or inexperienced actor get in films?
Honestly, there is no fixed budget. It can start from ₹5000 per day to several lakhs. Actor's budget also depends on the role and your work experience. If you are in a primary (main lead) role then your budget will be higher. But if you are selected for a secondary or tertiary cast, then the budget will be less.
And if you are doing crowd work (standing or sitting crowd), you will earn only peanuts.
How to contact Casting Directors or Production Houses for Movies?
Contact or visit these top casting agencies in Mumbai, who have casted several actors in the Hindi films.
Mukesh Chhabra Casting (Mumbai)
Casting Bay (Mumbai)
Vicky Sidana Casting (Mumbai)
Jogi Malang Casting (Mumbai)
Tess Joseph Casting (Mumbai)
Panchami Ghavri Casting (Mumbai)
Start your acting career with Web Series
Ott has seen phenomenal growth in the last 5 years. Most of the content consumed today is on OTT platforms such as Amazon Prime, Netflix, Zee5 and SonyLiv. Also, OTT is one of the most popular choices for aspiring actors for several reasons.
Unlike films, the cast in web series is often picked from the regional places. Which give equal opportunities to those who stay in tier 2 or tier 3 cities. Take an example of hit series like Panchayat, Mirzapur, Jamtara. Most of the casting is done from Bihar and UP region.
If you would like to make your acting career in web series, then this is the right time to start.
Series makers prefer skilled actors from the theater background. For those who haven't done any theater can still apply for web series.
To start your acting career in web series, you need to learn how to act naturally, without overacting.
Ott makers often look for a raw talent, therefore, inexperienced actors have a fair chance of getting selected.
To learn the basics of acting, join any acting course, theater or workshop. Meanwhile, follow the 20 actionable steps mentioned in the beginning of this article.
After enhancing your skills, get ready for the audition and continue doing that until you get success. Just a tip, Nawazuddin struggled for 10 long years before he got recognition in the film industry. However, with the abundance of opportunities today, you don't have to wait for 10 years. Start your acting journey today with determination and you will certainly succeed in life.
How much salary does a fresher or Inexperienced actor get in a Web Series?
There is no limit, payment or salary of an actor depends on his or her work experience and producer's budget. Considering you are getting started, don't expect too much in the beginning. However, the estimated per day salary or budget a new actor receives in web series starts from ₹5,000 to ₹10,000 per day. It can go higher up to ₹40,000 to ₹50,000 for an experienced and well known actor.