Gadar 2 makes its digital premiere on OTT on Oct 6, 2023. Those who couldn't watch it in theaters can watch it online.
After enjoying a long theatrical run, the Blockbuster film Gadar 2 finally arrives on the OTT platform in October 2023. Gadar 2 is a sequel of a Hindi blockbuster film, Gadar: Ek Prem Katha which was originally released in 2001.
Gadar 2 when released in theaters took the Indian market by storm and secured a total collection of ₹524 crores.
In the renewed version of Gadar 2, Sunny Deol reprised his role as Tara Singh and Ameesha Patel as Sakeena. However, Utkarsh Sharma, who played Tara Singh's son 'Jeetey' has now been introduced as a second lead alongside Simrat Kaur Randhawa. Other prominent characters in the film are Manish Wadhwa, who played the role of fierce Pakistani General Hamid Iqbal and Gaurav Chopra as Indian Military Commander Devendra Rawat.
The story of the film is written by Shaktimaan, directed by Anil Sharma and distributed by Zee Studios.
Gadar 2 Released on OTT in October 2023
People who have missed the action in theaters can now watch Gadar 2 on the Zee 5 Ott app. The movie made its digital release on October 6, 2023. Considering the film's theatrical success Zee5 bought its digital rights at the whopping undisclosed amount.
However, it is sure that OTT will recover its cost and make profit out of this deal.
Gadar 2 Story and Plot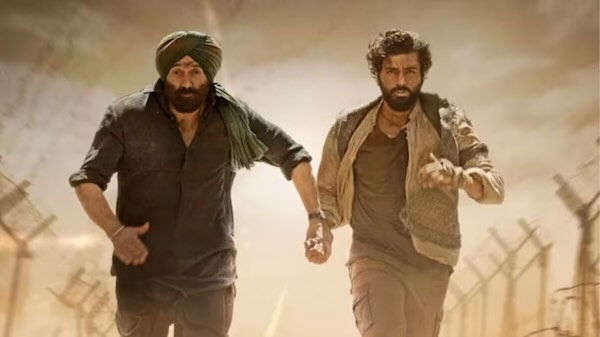 Also read: Gadar 2 Rating and Review, Watch or Not?
Gadar is a tale of Tara Singh and Sakeena's love story which is set against the backdrop of India's partition.
However Gadar 2 is about the father-son relationship and their love towards each other. In this sequel, Tara Singh was given a task to supply the ammunition to the Indian army. Tara Singh enters with his truck and destroys the enemy's camp, however, he goes missing.
As soon as his son Charanjeet Singh (aka Jeetey) hears this news, he crosses the border illegally to search for his father, not knowing that Tara Singh was never captured.
Meanwhile, Tara Singh safely returns home after being in a coma for a few weeks. Upon his return Sakeena tells him that Jeetey went to Pakistan in search of him.
Tara Singh with all anger goes to Pakistan and meets his mates who tell him that Jeetey is stuck in a prison. Afterwards, we see Tara Singh and Pakistani General Hamid Iqbal's encounter and a war between the two, which leads to an embarrassing loss for Pakistan.
Also read: Gadar 2 Box Office Collection