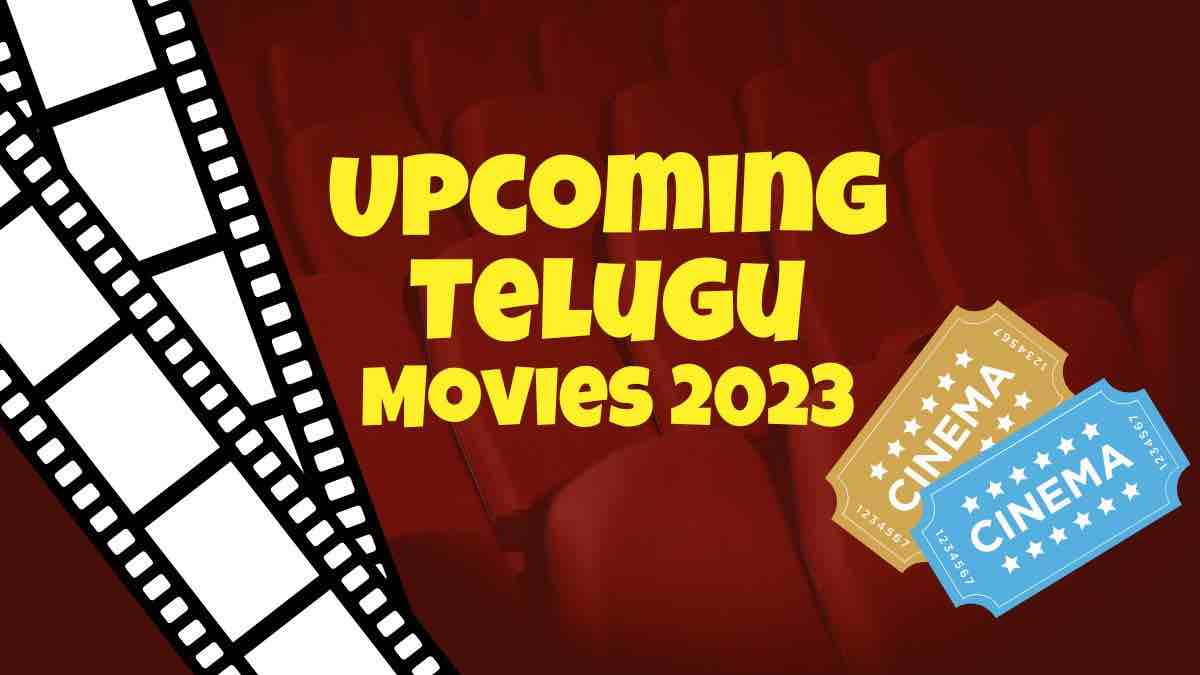 The grand success of Telugu movies such as Baahubali, Pushpa and RRR has completely changed the landscape of Indian cinema. Now the regional movies are being dubbed in Hindi, Tamil, Malayalam and other widely spoken languages to target the mass audience along with the niche audience. Recently there has been a lot of flak among Bollywood movies and the people who used to admire the hindi cinema is shifting towards Telugu movies due to the quality of content and uniqueness.
Also Read: Upcoming Bollywood Movies releasing in 2023 on OTT and in Theatres
To all those fans who are eagerly waiting for the new Telugu movies in 2023 will get thrilled to see upcoming releases across several genres. This includes drama, comedy, thriller, suspense, crime, period, romance or action.
Moreover, you will be able to enjoy movies of your favourite stars such as Chiranjeevi, Vijay Deverakonda, Rashmika Mandanna, Ravi Teja, Naga Chaitanya, Regina Cassandra, Keerthi Suresh, Nayanthara, Prabhas, Nagarjuna and Jr NTR.
Lets have a look at the upcoming Telugu movies releasing in 2023 in theatres and OTT platforms.
Table of Contents
List of Upcoming Telugu Movies on OTT and Theatres in 2023
| Telugu Movies | Release Date |
| --- | --- |
| Veera Simha Reddy | 12 January 2023 |
| Waltair Veerayya | 13 January 2023 |
| Vaarasudu | 14 January 2023 |
| Kalyanam Kamaneeyam | 14 January 2023 |
| D and D double dose | 20 January 2023 |
| Hatya | 20 January 2023 |
| Butta Bomma | 26 January 2023 |
| Hunt | 26 January 2023 |
| Ooru Peru Bhairavakona | 26 January 2023 |
| Agent | 26 January 2023 |
| NBK 108 | 27 January 2023 |
| Devil | 27 January 2023 |
Telugu Movies Releasing in February 2023
| Telugu Movies | Release Date |
| --- | --- |
| Writer Padmabhushan | 3 February 2023 |
| Amigos | 10 February 2023 |
| Kushi | 14 February 2023 |
| Spy | 14 February 2023 |
| Tillu Square | 14 February 2023 |
| Goodachari 2 | 14 February 2023 |
| Ahimsa | 16 February 2023 |
| Sabhaku Namaskaram | 16 February 2023 |
| Ardham Chesukoru | 16 February 2023 |
| Vinaro Bhagyamu Vishnu Katha | 17 February 2023 |
| Sir | 17 February 2023 |
| Anni Manchi Sakunamule | 17 February 2023 |
| Shaakuntalam | 17 February 2023 |
| Last Peg | 17 February 2023 |
| Vedantham Ragavaiah | 20 February 2023 |
| CSI Sanatam | 23 February 2023 |
Telugu Movies Releasing in March 2023
| Telugu Movies | Release Date |
| --- | --- |
| VT 12 | 13 March 2023 |
| Amaran | 17 March 2023 |
| Anaganagaa Oka Rowdy | 17 March 2023 |
| Narudi Brathuki Natana | 18 March 2023 |
| Harom Hara | 18 March 2023 |
| Nenu Nene Ramune | 22 March 2023 |
| Devil | 27 March 2023 |
| Tiger Nageshwara Rao | 30 March 2023 |
| Dasara | 30 March 2023 |
Telugu Movies Releasing in April 2023
| Telugu Movies | Release Date |
| --- | --- |
| Bedurulanka 2012 | 14 April 2023 |
| Boyapati Rapo | 14 April 2023 |
| Pushpa The Rule | 14 April 2023 |
| RC 16 | 14 April 2023 |
| Bhola Shankar | 14 April 2023 |
| Tatvamasi | 14 April 2023 |
| Adipurush | 16 June 2023 |
| Stuartpuram Donga | 14 April 2023 |
| RC 15 | 14 April 2023 |
| PSPK 29 | 14 April 2023 |
| Bharatheeyudu 2 | 14 April 2023 |
| Hari Hara Veera Mallu | 14 April 2023 |
| Driver Ramudu | 16 April 2023 |
| Rowdy Gari Pellam | 19 April 2023 |
| My Name is Shruthi | 19 April 2023 |
| Rakshana | 19 April 2023 |
| Virupaksha | 21 April 2023 |
| SSMB 28 | 28 April 2023 |
| PVT04 | 29 April 2023 |
Telugu Movies Releasing in May 2023
| Telugu Movies | Release Date |
| --- | --- |
| Hanuman | 12 May 2023 |
| Vidya Vasula Aham | 14 May 2023 |
| Raju Yadav | 14 May 2023 |
Telugu Movies Releasing in June 2023
| Telugu Movies | Release Date |
| --- | --- |
| Adipurush | 16 June 2023 |
| NBK 108 | 25 June 2023 |
| kaivalyaa | 26 June 2023 |
Telugu Movies Releasing in July 2023
| Telugu Movies | Release Date |
| --- | --- |
| Rendu Jella Seetha | 15 July 2023 |
| Kothi Kommachi | 18 July 2023 |
Telugu Movies Releasing in August 2023
| Telugu Movies | Release Date |
| --- | --- |
| JGM – Jana Gana Mana | 3 August 2023 |
| NTR 31 | 3 August 2023 |
| Samaram | 3 August 2023 |
| Veera Mahadevi | 14 August 2023 |
| VT 13 | 15 August 2023 |
| Narendra | 15 August 2023 |
| Rakshasudu 2 | 25 August 2023 |
| Kaadal | 25 August 2023 |
| Aavesham | 26 August 2023 |
| Rosham | 26 August 2023 |
| Dhool | 26 August 2023 |
| Paisalo Paramatma | 26 August 2023 |
| Idi Prema Katha Kadu | 26 August 2023 |
| Ade Prema | 26 August 2023 |
| Shivani | 26 August 2023 |
| Pakado Pakado | 26 August 2023 |
| Gulabi | 26 August 2023 |
| Nuvvu Evaro Nenu Evaro | 26 August 2023 |
| J1 | 26 August 2023 |
| 7 Prema Kathalu | 26 August 2023 |
| O Manasa | 29 August 2023 |
| Manu Charitra | 30 August 2023 |
Telugu Movies Releasing in September 2023
| Telugu Movies | Release Date |
| --- | --- |
| Panchamukhi | 2 September 2023 |
| Nani 30 | 5 September 2023 |
| Chowrasta | 6 September 2023 |
| Parking | 8 September 2023 |
| Vaddura Sodharaa | 10 September 2023 |
| Modhodu | 12 September 2023 |
| Man of the Match | 13 September 2023 |
| Sadhu | 13 September 2023 |
| Coffee With my Wife | 13 September 2023 |
| Marmaaanuvu | 14 September 2023 |
| Takkar | 14 September 2023 |
| Ramappa | 15 September 2023 |
| Rajakumari | 15 September 2023 |
| Black monkey | 15 September 2023 |
| O Manjula Katha | 15 September 2023 |
| Rakshakulu | 15 September 2023 |
| Rani Ranamma | 15 September 2023 |
| Salaar | 28 September 2023 |